Proteus PR100 operable louvre system
Colt Proteus Operable Louvre is a mechanically operated ventilator providing additional control and flexibility over fixed louvre systems. It is based on the fixed Proteus PR 100 system.
It is an extruded, single bank aluminium louvre system available in a 100mm pitch configuration, used for screening and/or ventilation. The aluminium louvres are very often used as plant room louvres, or indeed anywhere where plant needs to be covered up.
Proteus can provide an a good balance of rain defence and aerodynamic efficiency, providing an excellent combination of aerodynamic efficiency when fully open and rain defence protection when closed.
Proteus can be uniquely configured to provide the solution to your needs. A fixed version is also available.
Product information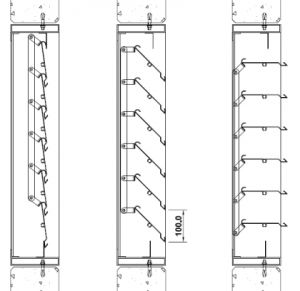 Features and benefits
Controllable airflow - provides additional control and flexibility over fixed louvre systems, with manual, electric or pneumatic options.
Aesthetically pleasing - a simple, clean extruded aluminium louvre with sharp, crisp edges to give a continuous appearance.
Reduced energy costs - highly aerodynamically efficient. This reduced air resistance allows the plant and the aperture to be smaller thereby saving running costs.
Enhanced performance - aerodynamically efficient and highly resistance to weather.
Proven performance - tested to EN 13030:2001.
Easy to install – it can either be delivered to site pre-assembled or as a kit of parts.
A wide range - available in various shapes, configurations, and finishes to meet the requirements of almost any project.
Optional accessories - a large selection of optional accessories is available, such as mitred corners, special shapes or louvre doors. If noise reduction is required, acoustic louvre panels may be supplied by us.
Design service - Colt provides a pre-order design service. Please contact Colt for more information relating to the application, specification, installation or servicing of Proteus.
Options
Product Name
Colt Proteus Operable Louvre
Manufacturer
Colt Ventilation East Asia Pte
Louvre profile
Single Bank extruded 100 mm pitch
Construction
Quality corrosion resistant aluminium alloy. Comprising 1.5mm thick extruded louvre blades centrally pivoted on nylon bearings with an aluminium box section surround frame.
Cills and frames
Shall contain all peripheral fixings CornersExtruded mitre corner pieces / mitred cut
Paint Finish
Partially coated / totally coated to any RAL polyester powder colour Partial / total finish Anodised finish GuardsInsect / bird / security
Optional extras
Acoustic modules Blanking panels (single skin or insulated)
Fixing
The ventilator is designed to be fitted into an opening and/or supporting members supplied and fitted by others.
Controls
Manual, electric or pneumatic OptionsSpecial shapes Doors Roof turrets
Performance
Performance
Test data is for the unit in the open position only
| | |
| --- | --- |
| Airflow | Air Inlet - 0.37 (including bird guard) |
| | Air Extract - 0.45 (including bird guard) |
| Rain defence | Class A2 - up to 0m/s suction velocity |
| | Class B2 - up to 1.5m/s suction velocity |
| | Class C2 - up to 2.0m/s suction velocity |
| | Class D2 - up to 3.5m/s suction velocity |